There have been a number of changes in my life over the last several months, but none were bigger than my most recent career decision. I was offered (and accepted) a position at a local BMW dealer. My role there is still somewhat in flux, but overall I am thrilled with the move. Learning to work with BMWs, though, has presented a number of challenges for someone who has spent the majority of his automotive life focused on Honda/Acura and Volvo. I wanted this weeks' COTW to reflect that, so I picked the first BMW that came to my mind:
2000 BMW 323i sedan
Why?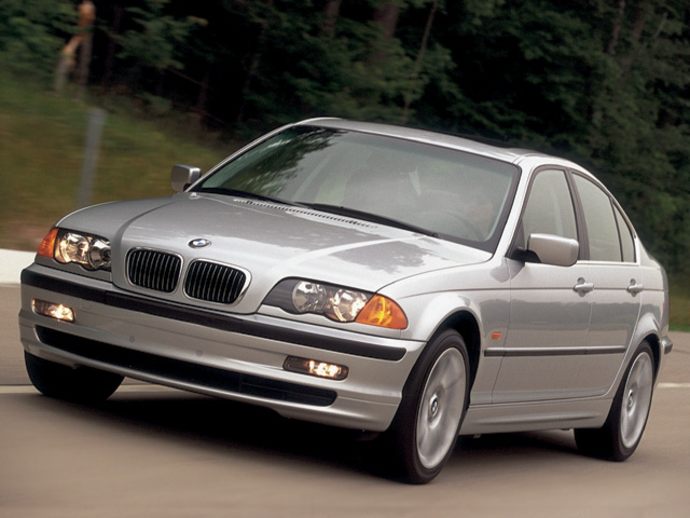 This probably doesn't seem like the likeliest BMW model to discuss on a site like this. The 323 was the bottom of the E46 3-series line in the U.S. market when it was introduced, taking the place of the defunct 318.  The 323i sedan had smallish 15-inch wheels, leather and power seats were options and, though it was powered by a straight-6, it wasn't long on power (168 horses). It seems like an odd choice for Car of the Week. So why did I choose it?
Well, put simply I almost bought one and I needed to do a bunch of research to make an informed decision. The car in question was a white 2000 model with fabric, non-power seats. It was clean, but needed work that, if it were done at the dealer, would have cost the owner between $2500 and $3000. None of it represented a major issue, though, and since he was already in a selling mood, I decided to make him a lowball offer. If he took it I could easily take care of the work myself for way less and flip the car for a profit.
Turns out he wasn't so keen on my offer and, in hindsight, my wallet is probably happier as well. In any case, though, I learned that the 323 was a really sturdy car and, for a BMW at least, not terribly expensive to own. If another one comes to my attention I will have to give it serious consideration.
About the Car
With the elimination of the 318 from BMW's 3-series line, the 323i became the entry level sedan for the U.S. market. While its 2.5 liter straight-6 engine was an upgrade from the 318's inline-4, it still only made 168 horsepower. It was a reliable motor, however, and many examples are still ticking with over 150,000 miles on the clock.
In terms of cost-of-ownership, the 323i was the best value of the 3-series line as well. Leather, power seats, powerful stereos and the like were all options, keeping the initial purchase price was comparatively low. Some wear items were also less expensive as well. The wheels, for instance, were 15-inch alloys, meaning tire options are plentiful and inexpensive.
In 2001, after only a couple of years, BMW replaced the 323 with the 325, which sported a more powerful engine and the option to add the company's new XDrive all wheel drive system. Since the cars with the more powerful motors are more desirable, the 323i can frequently be found for very wallet-friendly prices these days.
Other Resources
E46 Fanatics (enthusiast community for this generation 3 Series)
Wikipedia: BMW 3 Series (to be taken with a grain of salt, of course)
Cars.com Expert Review
Some photos in this article were freely sourced from Google. If you take issue with usage of any image, please contact me and I will remove it.