Picture this scenario. It's 1998. You're looking to do 0-60 in less than 7 seconds this weekend while racing down the highway to your next destination. Next weekend you're planning to tow your boat to the marina for a fishing day trip. What's the catch, you ask? You can only purchase one vehicle. What do you buy? I buy this week's Car of the Week because it perfectly handles BOTH situations. This week's Car of the Week is
1998 Jeep Grand Cherokee 5.9 Limited
Why?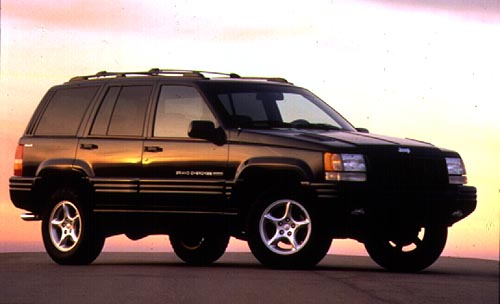 This 5.9 Limited edition marks the beginning of the mainstream bad ass SUV! It hauls groceries, boats and handles the road better than an average sedan from the time period. Sure, some of you may say, "What about the 1992 GMC Typhoon?" Let's be honest…there was everything bad ass but nothing mainstream about it. Nobody was towing with the Typhoon. The 5.9 Limited on the other hand fit in well as a daily driver, a true utility vehicle and a sporty car. The engine, drivetrain and suspension were sport tuned, and at the same time the Jeep provided for a balanced ride. I can't say the same for the Typhoon.
About the Car
Of course the 1998 Jeep Grand Cherokee 5.9 Limited is equipped with a 5.9 liter V8. Here's where it gets impressive. The engine generates 245 hp and 345 lb-ft of torque(!), which vaults the Jeep from 0-60 mph in 6.8 sec. Less impressive is the fuel economy of course, but remember that this car was released at a time when I was putting 94 octane in the tank simply because I could.
Other Resources
Wikipedia article on the 5.9 Limited (to be taken with a grain of salt, of course)
Chuck can be followed on Twitter @ChuckWhatTheF where he tweets about cars and other things "dudebros" are talking about.
Some photos in this article are freely sourced from Google. If you take issue with the usage of any image, please contact us and we will remove it.